Evolve WITH your customers FOR your customers ...
Today, most leaders put the consumer's voice at the center of their concerns. This client-centered policy helps them to maintain their leading position while ensuring effective growth. "What about you ?

+86% of buyers will pay more for a better experience
Improving customer retention cost 5 to 7 time less than acquiring new customers
Customer satisfaction is N°1 differenciator for 60% of organizations
Making clients as ambassadors boost revenues up to 20%
85% of org. will see a measurable ROI impact from their CX projects
Automated analysis
Publication of reviews on website & social networks
Publication of reviews on Google
API's for an automated management
Moderator access and alerts management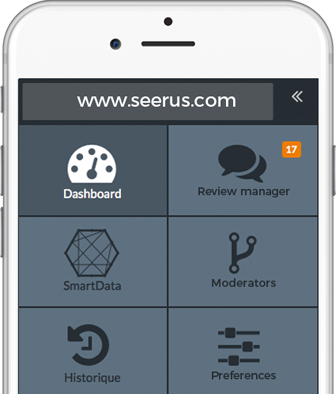 Information
All the applications of SEERUS works with supports such as smartphones and tablets, but we advice you to create your survey direct from a laptop.