Dashboard


Use the testimonials of your clients

to convert new prospects, and boost your online visiblity !
"80% of consumers consult online customer testimonials."

"70% of Internet users trust customer testimonials, only 40% have confidence in traditional advertising."


Create personalized surveys that adapt automatically in function of your products/services and the profile of your respondents.
Encourage your satisfied clients to testify and get real time alerts for every new comment on your PC, tablet or smartphone.

Take control of your E-reputation. Thanks to your dashboard you don't leave a single negative review unanswered and you draw a decent communication channel with your customers.

Get a real feedback from your customers by going further than a simple comment. Let the satisfaction survey evaluate the quality of your product/service through the eyes of the customers.
Simply share the testimonials on different channels that are important in the decision-making process (website, social media, Google,…) and boost your online visibility.

Evaluate objectively the strengths and weaknesses of your company and your business team thanks to the benchmarking function.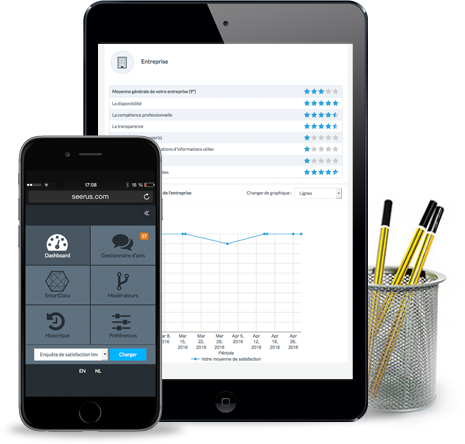 Benefits Dashboard+
In addition to collecting client reviews, discover our other features :
Automated surveys
Certified review collection
Review moderation (response, delete, share)
« Multi-Level Dashboard » Personalized acces for every team member
In-Line SEO (Google)
« Multi-Level Dashboard » Personalized acces for every team member
Responsive surveys and dashboard
Contact us, we're there to help and consult you
"Contribute to a transparent market and increase your credibility by converting your suspicious prospects into confident prospects."